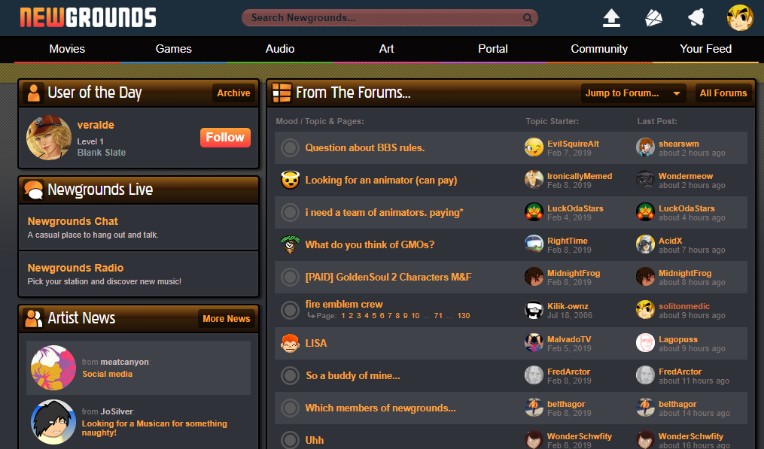 I've always been meaning to do this for sometime now, so here it is: a complete throwback of the '04 days! Take a glimpse to what NG used to look like back then with this Stylus theme!
Known bugs:
Weird artifacts might appear in your userpage and notifications
Might not actually boost load speeds
BBS splitter blends a bit too well with the background
Submission ratings are too small and barely noticable (at present there's no known fix without breaking parts of the site)
Features: 
The classic NG look and colors
Functional forum icons (one of them even animates, just like old times!)
Lightweight, so it'll play nice with mobile (It'll actually boost site load speeds!)
Appiles to everything except userpages, the portal (and instances where the site will use the '15 theme)
The original splitter from the old layouts
Background and assets is optimized to work with the current 2018-19 theme
Does not remove ads (why would you do that? you could already remove ads)
Get it here: https://userstyles.org/styles/167650/newgrounds-2004
How to install: 
How to install /w Tampermonkey:

3.) Tampermonkey will automatically prompt you to install. Press 'Install'.

4.) (Edge users only) Go to Tampermonkey's dashboard, set "Run at:" to 'document-body'. Leave everything as-is.

That's it, you're good to go!
Feel free to leave a comment here or on the actual userstyle page! In case of bugs, contact me here.
Change log:
(Ver.01)
- First release

(Ver.02) 
- Fixed a issue where locked icons would not appear

(Ver.03)
- Added the original NG Orange color schemes to review and forum replies text boxes.
- Added persistent header colors on most headings. The change will also ignore any heading colors you've set to your user page.

(Ver.04)
- Fixed a issue where the background color on BBS and user page editors were not displaying properly.
- Added better compatibility with Microsoft Edge (with Tampermonkey).
- Will no longer override userpage layout.
- Updated to match new additions to layouts.